"Cross Necklace Gallery"
These "Beautiful Cross Necklaces are to remind the world of what Christ accomplished for mankind on the cross, and the price He paid, making it possible for any who would chose to do so, to someday be with Him.
Each Cross necklace:
Has an fully adjustable simulated leather cord
Is very well made and durable
Can be placed on a key chain
At 1-1/4 by 1-1/2 inches is small enough to be carried in a pocket.
Unconditionally guaranteed
Easy to order
$9.99 each, or 3 for $25.00 - Shipping is free
"Cross necklaces in Birthstone Colors"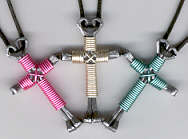 "Birthstone Cross necklaces" - A Color for Every Birth-Date.
The idea of wearing a color for each month may have begun over 3400 years ago when God commanded Moses to make the Breastplate of Aaron with 12 gemstones, (one for each of the Twelve tribes of Israel). Some believe the gemstones were of the Zodiac of that time.






"Red White and Blue Cross Necklaces"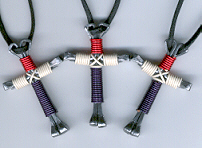 "Patriotic Cross Necklaces" - In Red White and Blue - the colors of the American Flag.
Wearing this beautiful red white and blue cross necklace is great way to let others know of your love for both God and country. They make great patriotic and military gifts.





Who else wants to make $2000 a month with these cool little crosses! .