Patriotic Cross Necklaces
$9.99 Each - Free Shipping

These beautiful Red White and Blue Patriotic cross necklaces are professionally hand crafted in the colors of the American Flag. This American Flag Necklace will show your pride in America and remind others that we are a free and Christian nation.
The Red, White and Blue Cross necklace is colorful, but not gaudy. It is worn by men women and children, inexpensive, well made, and ideal for Religious, Patriotic and Military gifts.
Each Cross necklace:
Has an fully adjustable simulated leather cord
Is very well made and durable
Can be placed on a key chain
At 1-1/4 by 1-1/2 inches is small enough to be carried in a pocket.
Unconditionally guaranteed
Easy to order
$9.99 each, or 3 for $25.00 - Shipping is free
We guarantee you will be pleased or your money back.
3 For $25.00 - Free Shipping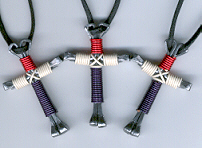 Wearing this beautiful Red, White, and Blue Cross Necklace is a great way to openly display your Christian Patriotic love for your country.